Our Presence
Brandwell merchandise ( I ) pvt ltd
B­4, KD Plaza, Freedom fighters Enclave,
IGNOU Road, Neb Sarai,
NEW DELHI ­ 110 068
Tel : +91 11 65281 999 / +91 9971797233
E­mail : delhincr@brandwell.in
Brandwell merchandise ( I ) pvt ltd
#7, Sri Sai Nilayam, 1st Floor, Golf Avenue,
Old Airport Road, Kodihalli,
BANGALORE ­- 560 008
KARNATAKA
Tel : +91 80 64003112 / +91 99000 60555
E­mail : bangalore@brandwell.in
Brandwell merchandise ( I ) pvt ltd
16/ 530B, 1st Floor, T.M. Tower,
NH 47 ByePass,Nettoor, KOCHI ­ 682 040
Tel : +91 484 6599965 / +91 90611 61161
E­mail : kochi@brandwell.in
About
Brandwell Merchandise (I) Pvt Ltd stepped into the business of Corporate gifting with a simple thought of understanding the requirements and tastes of our clients and we turned that thought accordingly into making specific customized Gift Products that would be appropriate to the clients budget and could cater to their purpose of gifting.

We regularly focus and keep ourselves upgraded upon the latest trends and styles; our aim is to present products that are trendy and savvy, something that has made us draw appreciation from our clients and high regards from those who've been gifted our products.

Within few years after the startup, our company has grown into a reckoning force in terms of its market value and has built a team of corporate gifting specialists. We've established a comprehensiveclient base aimed at long term business relationship. We are proud to achieve the same in terms of customer loyalty and trust. We constantly devote our time in knowing the likes and needs of our customers, consequently promoting novel and conte- mporary products.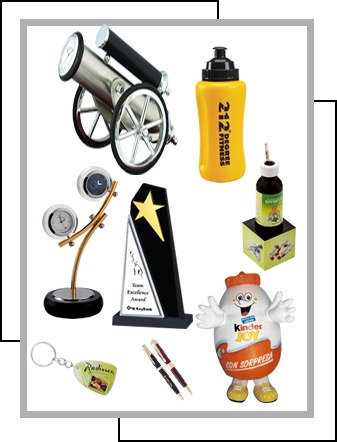 Over the years we have established a vast corporate gifting samples bank consisting of a wide array of unique products, tailor made to customer needs. Furthermore over the years we have developed expertise in gift items and materials of construction such as leather, cardboard, wood, paper, glass, crystal, acrylic, ceramics, plastics, MDF, canvas, clothing, stainless steel, aluminum, brass, bone china, marble, precious metals like gold, silver, gemstones, vinyl for banners and a range of eco friendly materials. The list is endless.

We work on a simple mantra of presenting the best corporate gifting solutions, maintaining the best quality of products, giving the most economical price and retaining a business relationship that is long­lasting. Once in business with us we take great interest and extra efforts in building your brand and your business. Our interaction with our esteemed clients is a continuing process for our mutual benefit.
our associates
Lorem Ipsum available, but the majority have suffered alteration in some form, by injected humour, or randomised
words which don't look even slightly believable.Lorem Ipsum available, but the majority